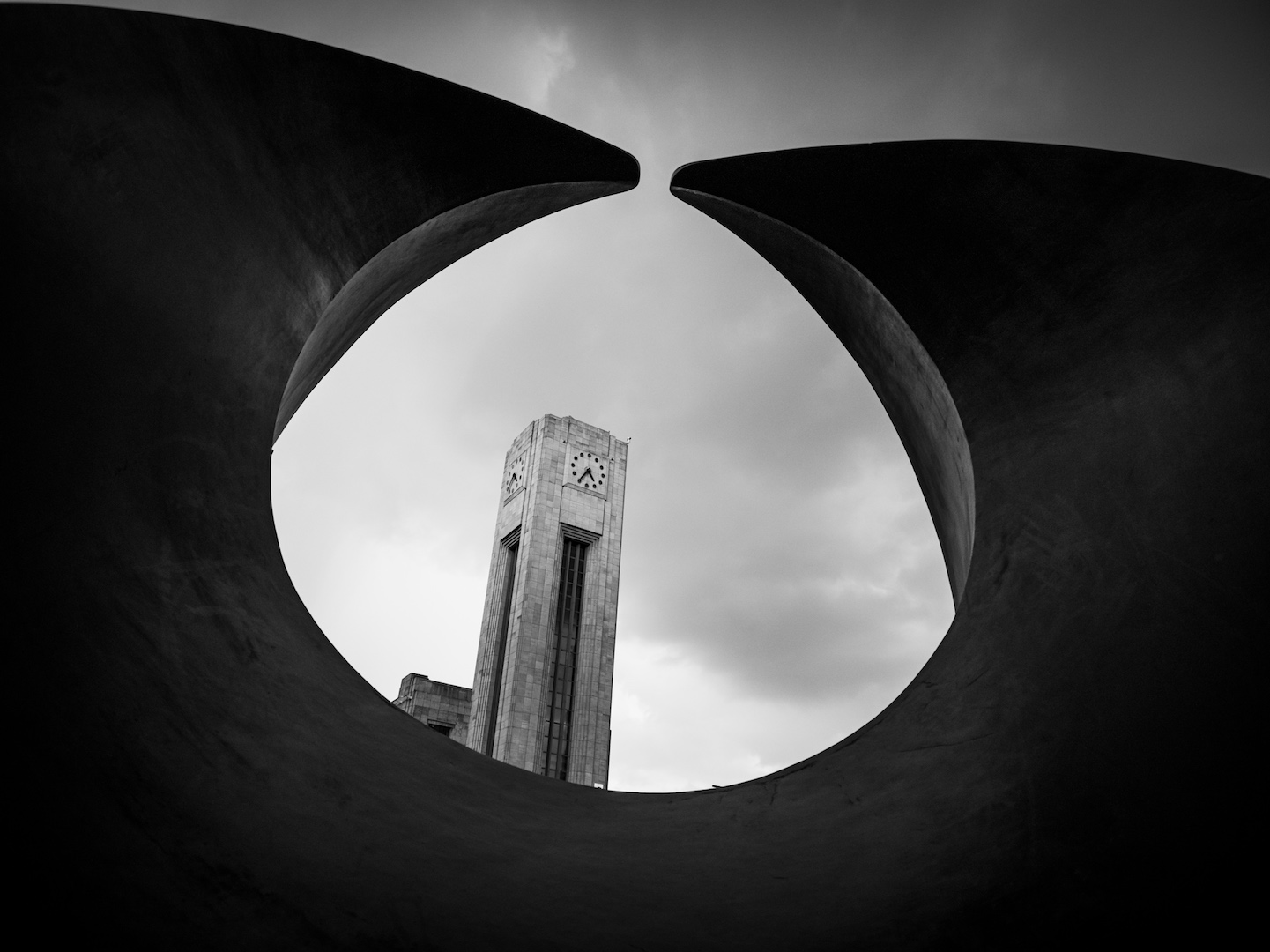 Zwartwit fotografie is een geweldige manier om je foto's een tijdloze look te geven. Dankzij het gebrek aan kleur, vermijd je de tijdelijke bewerking trends in de wereld van presets. Ook al lijkt het simpel, toch is digitale zwart wit fotografie een kunst op zich.
Waarom je bij zwartwit fotografie toch in kleur moet fotograferen
Een tijdje geleden verveelde ik me. Ik besloot mezelf dan maar een uitdaging op te leggen. Door Brussel, mijn nieuwe hometown, wandelen en met mijn smartphone en alleen zwartwit foto's maken.
Hoewel mijn Huawei P40pro+ een 'monochrome' functie heeft, besloot ik toch in kleur te fotograferen en de foto's later naar zwart wit om te zetten in Lightroom Mobile.
Daar is een goede reden voor.
Hoewel je later de informatie van de kleuren niet gaat gebruiken, kan het toch van pas komen tijdens de bewerkingen.
Wil je bijvoorbeeld meer drama in de wolken? Wel, je kan de blauwe lucht donkerder maken met de HSL schuivers in Lightroom. Aangezien de foto zwart wit wordt, moeten de kleuren niet natuurlijk blijven. Het gaat dan puur over het contrast.
Maar om die specifieke kleurkanalen te kunnen bewerken, moet je natuurlijk wel de kleur behouden. Zelfs al is je doel zwartwit fotografie, kleur is een handige tool.
Tips voor zwart wit fotografie
Ik deed mijn challenge met mijn smartphone, maar deze zwart wit tips kan je toe passen met elk type toestel.
Fotografeer RAW om kleuren te behouden
Zoals ik eerder al schreef, zijn kleuren een handige tool bij het bewerken van je foto. Zelfs als je doel is om zwart wit foto's te maken. Als je in RAW fotografeert, behoud je heel wat bewerkingsmogelijkheden.
Op die manier kan je je foto achteraf nog meer je eigen ding maken.
Fotografeer in RAW+jpg met je DSLR
Eventjes weg van het smartphone gegeven, met je DSLR kan je in beide formaten tegelijkertijd fotograferen. Ik doe dit standaard om een extra kopie van elke foto te hebben. Zo kan ik zelfs bij een corrupted memory card toch nog foto's opleveren van de andere kaart.
Voor zwart wit fotografie is het interessant omdat je RAW file alle informatie behoudt. De jpg, die je op monochrome hebt gezet, geeft je ter plaatse toch al een idee hoe de foto er in BW uit zal zien. Lekker handig!
Kijk naar contrast, compositie en textuur
Je zal al snel merken dat een kleurenfoto niet persé gemakkelijk omzet naar zwart wit. Soms hangt de compositie en verhaal af van de kleuren in het beeld. Haal je die kleuren weg, dan blijft er plots niet veel over van de foto.
Om in zwart wit te fotograferen, moet je dus rekening houden met het verdwijnen van de kleuren.
Kijk naar de texturen in je beeld. Bedenk hoe je je compositie kan laten afhangen van zaken die niet met kleur te maken hebben, en zorg voor voldoende contrast om je beeld interessant te houden.
Dankzij zwartwit fotografie kan je het verschil tussen licht en donker nog meer uitspelen. Zo kan je met monochrome foto's het harde daglicht toch gebruiken, iets wat bij kleurfotografie vaak moeilijker is.
Gebruik het niet als laatste reddingsmiddel
Ik heb het al te vaak gehoord: Als de foto niet goed werkt, zet het om naar zwart wit, dan is alles mooi.
*buzzer* Fout!
Een goede zwart wit foto was al monochrome voor je de ontspanner afdrukte. Wees jezelf er van bewust of je een foto in kleur of zwart wit gaat maken en bewerken nog voor je de foto maakt.
Zwart wit kan in sommige situaties een voordeel opleveren, zoals bij hard licht. Maar het kan ook zeker een nadeel zijn. Wie fotografeert nu een bloementuin in zwart wit?
Nadenken voor je fotografeert is dus belangrijk.
Nog enkele van mijn zwart-wit foto's. Zowel met smartphone als met DSLR. In deze gallerij zie je een combinatie van eigen werk en werk dat ik in opdracht maakte.
Zin om ook in zwart wit te gaan fotograferen? Gebruik de hashtags #Fredography op Instagram om jouw zwart wit foto's te tonen. Ik kijk er al naar uit ze te zien!
Meer artikels lezen: